By Mary Boutros, Sapna Vats, Philippa Varszeghy and Zana Hunt, Year 2 Team
A Little Bit Of Background
In 2016, we were involved as a teaching team of Year 1s in a project around the concept of magic. Throughout the learning journey, we challenge the children to unpack its meaning. This meant building scaffolding for them to interrogate the ideas more deeply.
Remarkably, during the course of this project, the children expressed a strong desire to address the issues that were present in their community and in the wider world. For instance, they became actively involved in creating 'Blessing Bags' for the homeless. They raised money through baking cupcakes for 'RSPCA' as well as creating 'Seed Balls' to spread magic in different ways.
It was clearly evident that the children were developing strong aspirations to go deeper in addressing issues around their own agency and to explore how powerful they could be as a group and as active individuals.
The Journey In 2017
At the beginning of the year in 2017, we were asked by Year 5/6 teachers to discuss with students the qualities they would like to see in their school leaders. This opportunity led our teaching team and now, the Year 2 students, to explore the meaning of 'what's an effective leader?'
We immersed the children into literature, animations and philosophical discussions to draw out the different opinions on leadership and what it meant to us as a school community.
Some of example of the literature that we used in the classroom to focus on the qualities of effective leaders …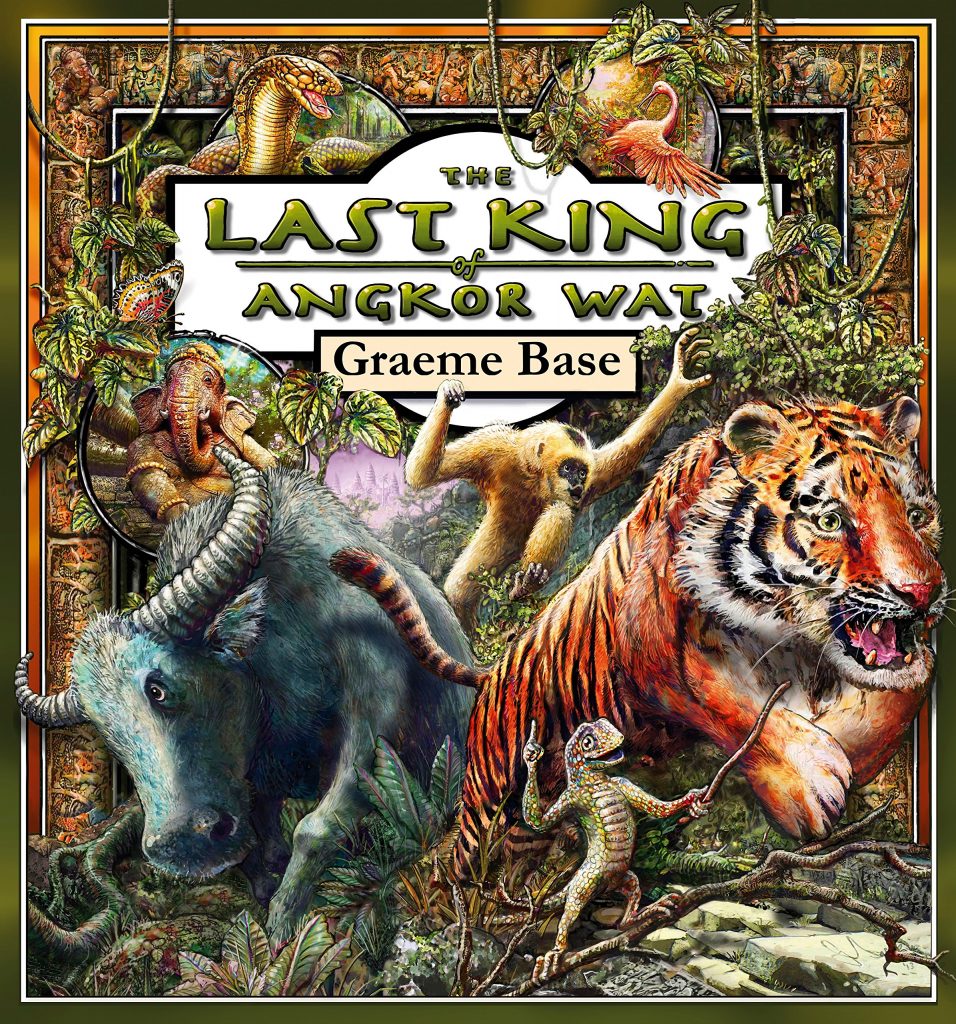 Most importantly, we were keen to find out how children perceived the qualities of effective leaders. We even pushed them further by asking them to rank them, based on their experiences, their family values and cultural backgrounds.
A perfect opportunity for debating was born
The debating that resulted from including how the children perceived leaders became the springboard for the formation of committee groups. These were further linked to the children's areas of interest.
It was within this context that as a teaching team we formed the view that what better platform could we have than trying to run our own Class Parliament to share, plan and implement ideas. Consequently, the children brainstormed the issues that were important to them and voted for their committee members through the democratic process of a preferential voting system.
In an air of excitement, students tapped into their aspirations to become leaders and were given an opportunity to persuade different members of their Year 2 Community as to why they should be chosen leaders, mentors and members of a specific committee. For Wooranna Park students that meant form committees on
Health and Wellbeing,
Maths,
Science and Technology, and
Civics and Citizenship.
We invited Carol Mier from the Dandenong council to help us understand more about the structure of the Parliament and the council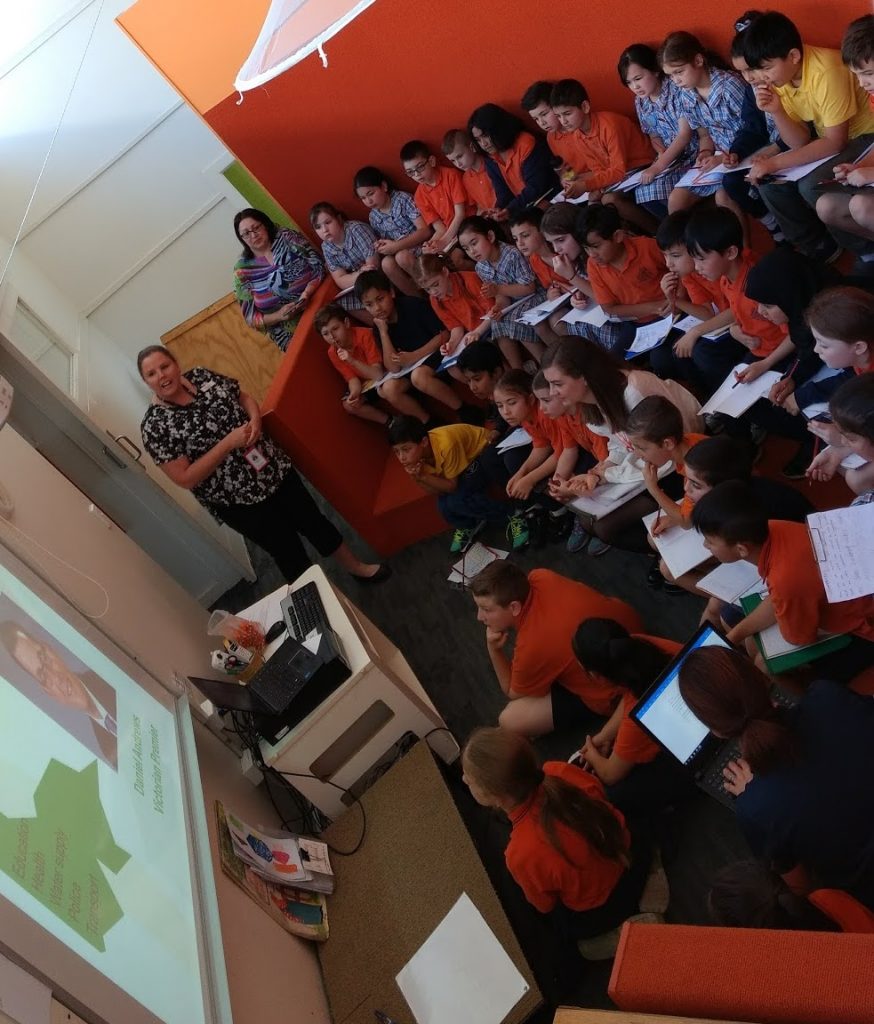 We wrote on the SEESAW App to parents
At Wooranna Park Primary School, 'Student Voice' is pivotal in everything we do. Year 2 class Parliament is a great medium to foster this voice. Since mid-term 1 students have observed grade 5/6 Parliament, watched videos and took part in several discussions to assist them in building an understanding of various aspects related to a parliament. Students came up with different committees. They wrote a persuasive piece of writing to put forward their preferences. This week we explained the structure of our class Parliament and children wrote why they should be voted in different roles such as 'Leader', 'Mentor' and 'Committee member'. Watch this space as we will have voting on Tuesday!!!

May 27, 2017
Children worked hard in drafting, publishing and presenting their speeches for different roles such leader, mentor and committee members. A leaders' assembly was organised and the deputy Mayor of Dandenong Council was invited to hand out the badges. Our Year 2 students were presented with their badges and could not contain their excitement to represent their chosen committee.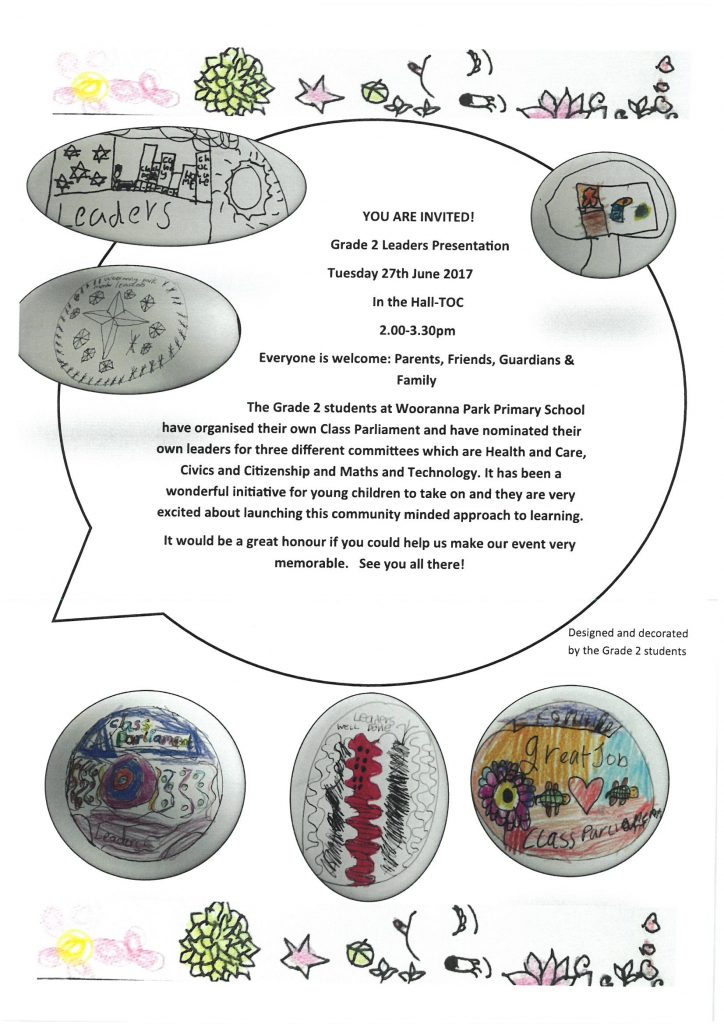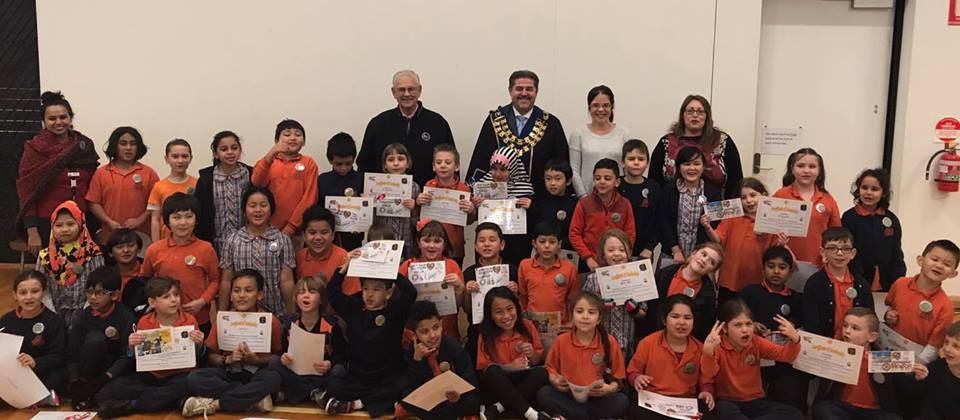 From Aspiration To Active Citizens
After being elected, we were keen to begin working in our committees. Meetings were organised, discussions were held, plans were put together and actioned upon. We organised Science and Technology Day, Wellbeing Day and began our Nude Food Mission by organising Nude Food Day (NFD).
While children diligently worked in their designated committees, teachers wanted the children to experience the real taste of Parliament. So we made inquiries into taking the children to a sitting of Parliament in Melbourne.
To our dismay, we were refused an excursion as a school group because they were 'only' Year 2s. When we shared this news with the children, they were in disbelief over the reason given for the refusal. Consequently, they decided that they were not going to take no for an answer. They knew that they had the magic and power of persuasion!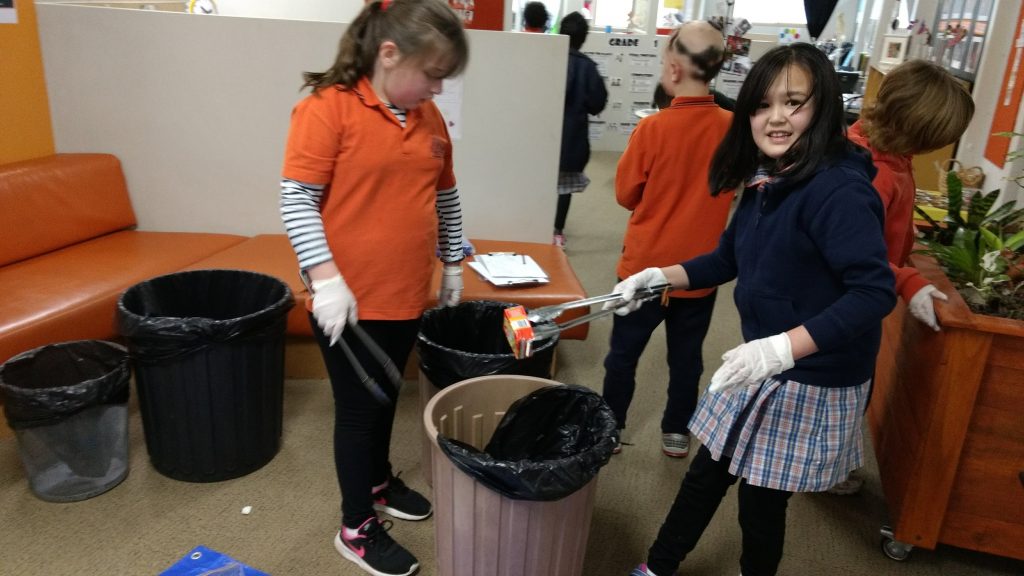 We begin our campaign
We researched about different leaders in Victoria and the ones we could approach. We drafted, wrote and posted persuasive letters to ministers including James Merlino, Jenny Mikakos, Gabrielle Williams and Daniel Andrews.
We received a response from Gabrielle Williams saying that she wanted to visit us. During this visit Gabrielle gave us an assurance that she will try her best to assist us with our cause.
Democracy at work!
Our MP spoke on our behalf in the Parliament. As a result, her speech has been documented in the HANSARD. After her address to Parliament, Gabrielle informed us through email that we would have to write a petition to promote our cause. It was an iconic moment that reinforced what children truly believed and that they could make a real difference.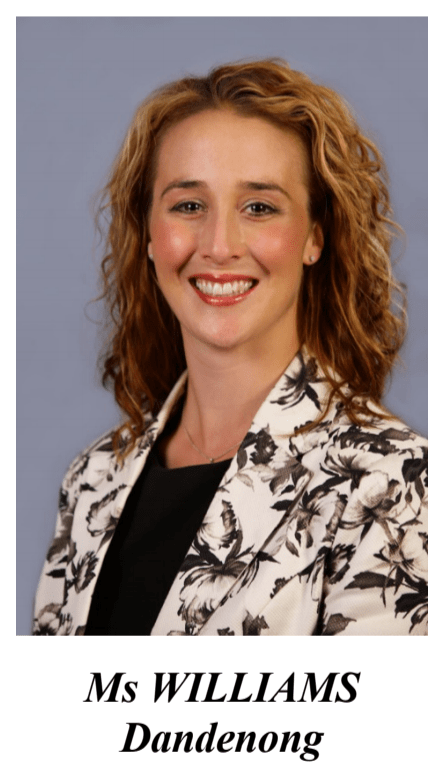 Our petitions received an overwhelming response from the school community. Gabrielle Williams then presented the petitions to Parliament on our behalf.
While we were learning all about petitions, we received responses to our letters from different Ministers. In their letters, they appreciated our initiative but we were still advised to wait until we were in Years 5 and 6. This made us even more determined to pursue our cause.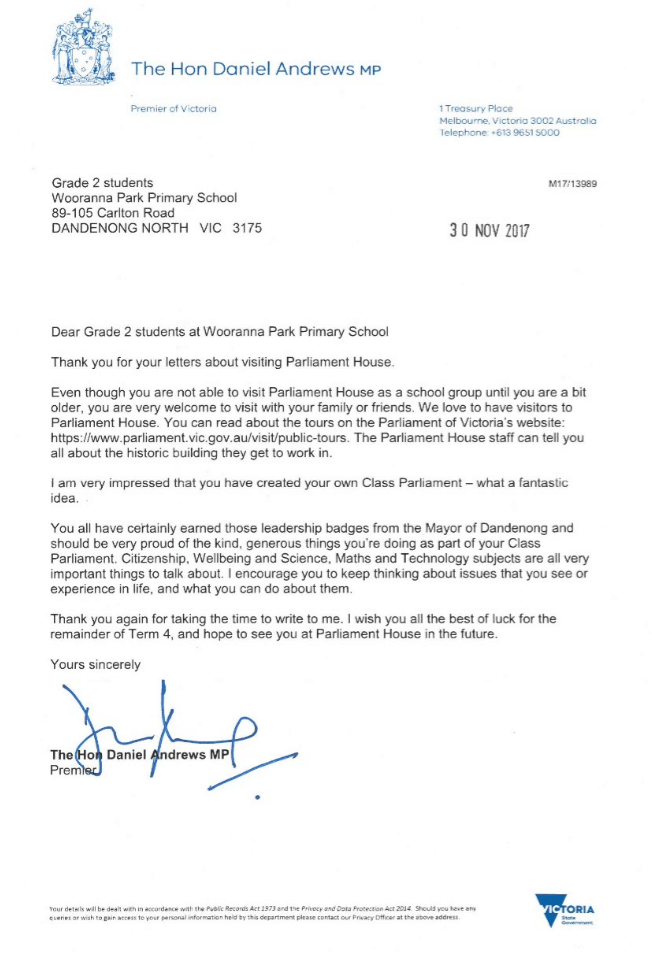 In an extraordinary show of support, our petitions received an overwhelming response from the school community. Gabrielle Williams then presented the petitions to Parliament on our behalf.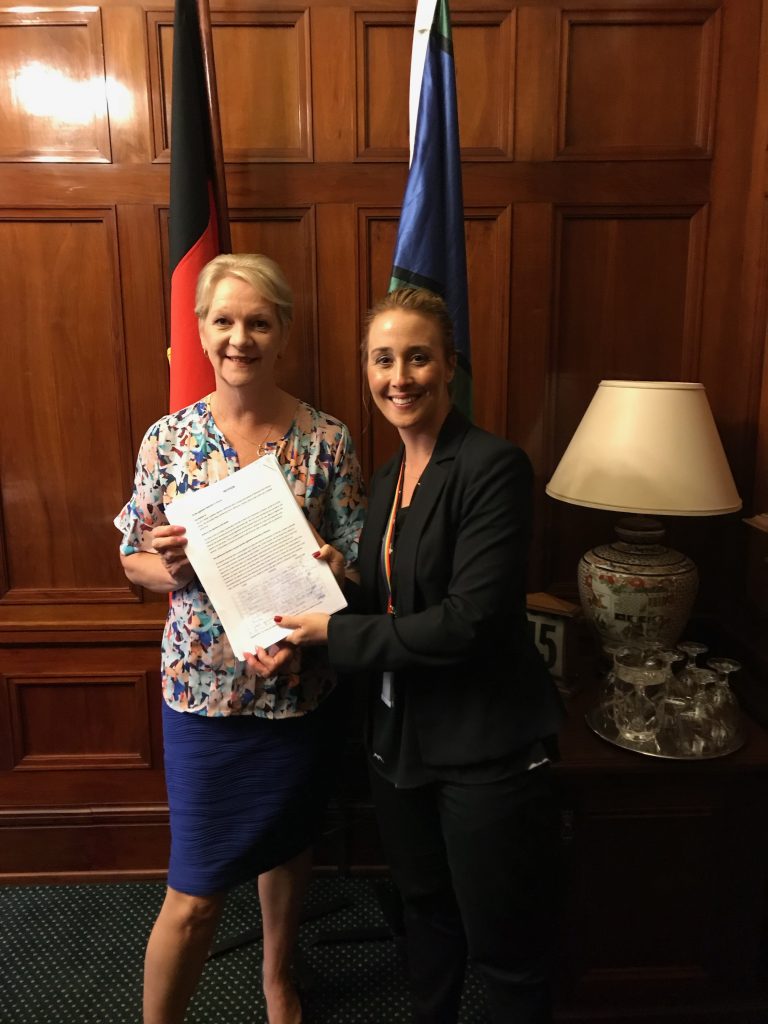 Early in 2018, we received an email from the Dandenong Parliamentary office advising us that we were able to organise an excursion to go and visit a Parliament Q&A session.
Finally we were listened to…